Oriental Translations offers translation services from most European languages (English, German, Italian, French, Spanish, Portuguese, etc.) towards the following Asian languages and vice versa:
Arabic, Armenian, Azerbaijani, Belarusian, Bengali, Chinese (Simplified), Chinese (Traditional), Georgian, Gujarati, Hindi, Indonesian, Japanese, Kazakh, Kurdish, Kyrgyz, Malay, Marathi, Mongolian, Pashto, Persian (Dari), Persian (Farsi), Persian (Tajik), Punjabi, Russian, Tamil, Tatar, Telugu, Turkish, Turkmen, Uyghur, Urdu, Uzbek.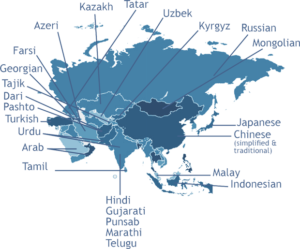 ​
For other languages not mentioned above, you can easily send an e-mail, using the form in the Contacts page.